Lakewood Township Shade Tree Commission Recognizes Arbor Day Poster Contest Winners
June 17, 2014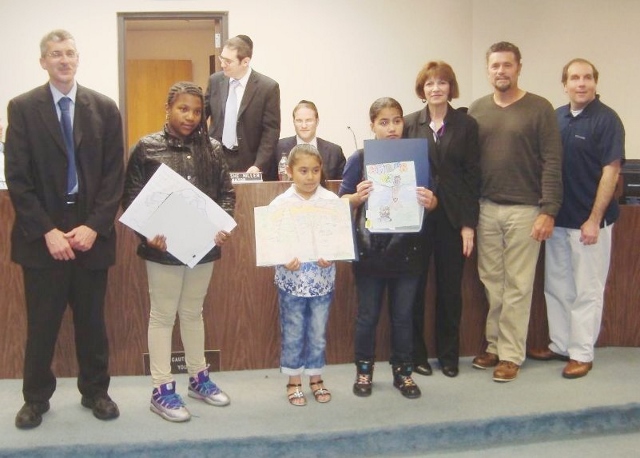 Lakewood Mayor Menashe Miller and members of Lakewood's Shade Tree Commission recently recognized the winners of the annual Arbor Day Poster Contest, open to public school students, grades one to six.
All recipients received a Proclamation from Lakewood Township and from the New Jersey State Legislature, and two tickets to a Lakewood BlueClaws game, donated by the Lakewood BlueClaws. First, Second and Third Place award winners also received a cash prize donated by First Commerce Bank, Lakewood.
Shade Tree Commission members who presented awards to the winners were Dr. Michael F. Gross, chairman, Craig Theibault, vice chairman; Ryan Semblewski, member; and Mary Kay Malec, executive assistant. All posters were judged by the Shade Tree Commission members. The winners are:
Oak Street School Grade 1: Brenda Mazzoco – Honorable Mention Grade 2: Camila Maria Urbina-Taveras – Honorable Mention Grade 3:Giovanni Miron Ramos, Christopher Jimenez Rojas and Javier Veloz – all Honorable Mention Grade 4: Andre Smith – Third Place; Janet Calvario, Yandiel Colotl Camacho, Emelie Mayorga and Eniya Rosado, all Honorable Mention Grade 5: Kevonna Oliver – First Place; Jose Gomez Aranda – Second Place; Rene Garcia – Third Place; Jason Harilal, Lidia Morales, and Issis Retana – all Honorable Mention Special Ed: Freddy Ortiz – Honorable Mention
Clifton Avenue: Grade 1: Jamey Terzi-Retes – Honorable Mention Grade 2: Clive Boswell, Lizbeth Gonzalez Meneses, and Hanna Hernandez–all Honorable Mention Grade 4: Maria Mejia – Honorable Mention Grade 5: Amy Cardozo and Yadira Meza – all Honorable Mention
Lakewood Middle School: Grade 6: Kaitlyn Montoya – Honorable Mention
Dr. Gross, who is a full-time administrator and biology professor at Georgian Court University (GCU) and director of the university's arboretum, noted that Lakewood has been designated a Tree City for having a commitment to caring for and managing public trees, and for its annual Arbor Day programs.
Picture Caption: (l to rt.) Dr. Michael Gross, three student winners, Mary Kay Malec, Craig Theibault, and Ryan Semblewski. Row 2: Mayor Menashe Miller and Deputy Mayor Isaac Akerman