Fare Information:
Starting October 1st there will be a 1 dollar charge per ride.
We Kindly Request:

1. No eating, drinking or smoking.
2. No disruptive/ loud cell phone use or music.
3. Seats in the front are reserved for seniors and disabled citizens.
4. Stand back from the yellow line.
(Routes may deviate daily upon request. The Lakewood Shuttle requires advance notice of 48 hours to accommodate requests. The bus will deviate up to a 2 block radius from the designated route. There is a $2.00 fee per route deviation; however, this service is free for seniors and individuals with disabilities. To request a route deviation call 732.905-3405 and we will get back to you as soon as possible.)
There is no bus service on the following holidays:

New Year Day
Martin Luther King
Lincoln's Birthday (Observed)
Washington's Birthday/President's Day
Good Friday
Memorial Day
Independence Day
Labor Day
Columbus Day
Election Day
Veteran's Day (Observed)
Thanksgiving Day
Thanksgiving Friday
Christmas Day
Lakewood Shuttle
Lakewood Township Public Works
732-905-3405
The Lakewood Shuttle service is available for everyone in the community to ride. Service animals and persons with portable oxygen tanks are permitted to ride the bus.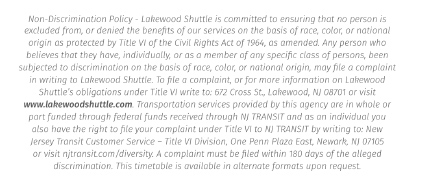 Busses funded by the NJ Transit grant program.
Non-Discrimination Policy